Main content starts here, tab to start navigating
March Khaos Special
$4 Khaos Brewing Grip It N Rip It Kolsch Drafts all March long!
Lent Specials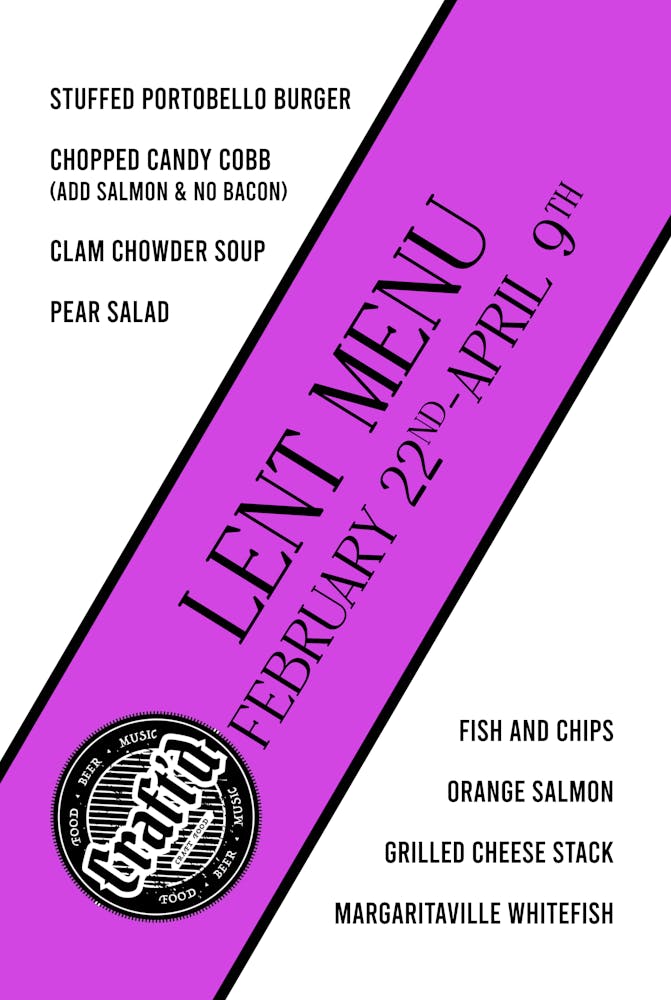 Chopped Candy Cobb Salad (Add Salmon, No Bacon)
Pig Candy, shredded Carrots, Tomatoes, diced Red Pepper, Hard Boiled Egg and Blue Cheese Crumbles over chopped Romaine. Tossed with Pesto Ranch.
Clam Chowder Soup
Fish and Chips
Pear Salad
Mixed Greens with dried Cranberries, Candied Walnuts, Blue Cheese Crumbles and lightly sautéed Pears. Tossed with House Poppy Seed Dressing.
Orange Salmon
Seared Orange rubbed Salmon, over Brown Rice and Green Beans. Topped with Ginger Teriyaki.
Grilled Cheese Stack
Three buttery slices of thick Challah piled high with Wisconsin Cheddar, Indiana Muenster and Provolone Cheeses with our Green Apple Onion Relish.
Margaritaville Whitefish
Lightly floured, pan seared Seasonal Whitefish served with sautéed Shrimp and Bruschetta Mix in a White Wine Sauce. Served over Brown Rice.
Stuffed Portobello Burger
Balsamic roasted Portobello filled with Quinoa, roasted Red Peppers and Spinach topped with crumbled Goat Cheese.
*AVAILABLE THROUGH SUNDAY APRIL 9th*
St. Patty's Milkshake
Crème De Menthe flavored Milkshake.
Mint Chocolate Chip Cookie Ice Cream Sandwich
Mint Chocolate Chip Mint Cookie with Chocolate Chips, Vanilla Ice Cream and Chocolate Drizzle
Become a Craft'd VIP Member today for amazing benefits, freebies and discounts!
Sunday Specials
$4 Khaos Brewing Grip It N Rip It Kolsch Drafts all March long!
Sunday Specials
$10 Miller/Coors Buckets
$4 Miller Lite 22 oz. Drafts